KEFALONIA TREKKING
SAMI TREKKING KEFALONIA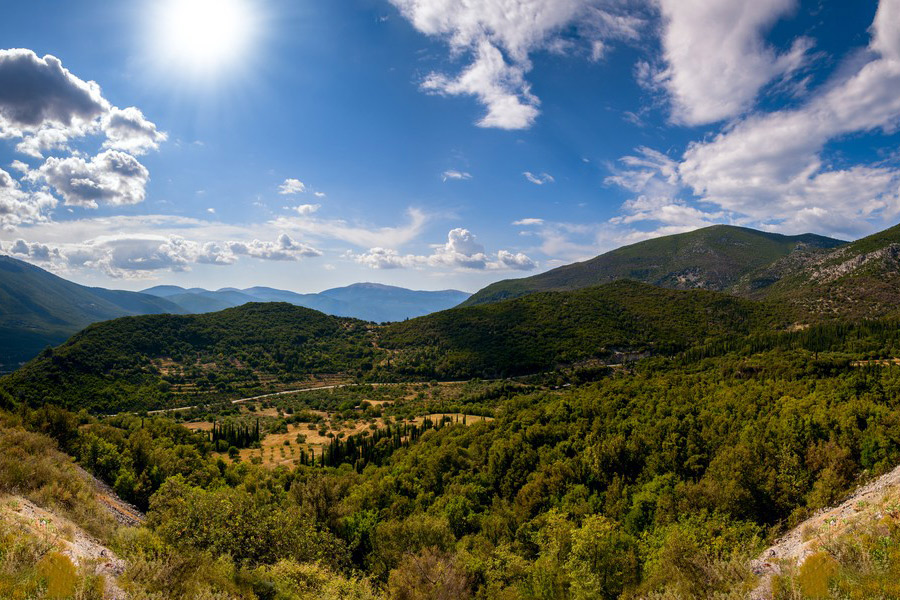 Sami-Antisamos-Aygo peak-Old villages tour
Explore mountain tops, castles and old villages of Kefalonia
Duration: 6-7 hours (Depending on the level)
Meeting point: Central Square of Sami
End Point Option:

Central Square of Sami
Level: Medium
(for quite experienced hikers)
Price: 50 euros per person
Minimum participation: 4 people
Description:
We start our hike at the square of Sami and we follow a beautiful path through a forest of holy trees, arbutus, oak trees while ascending towards the ancient castle called Paleokastro. According to the historian Thucydides, this two-sided Acropolis of Ancient Sami protected "Sami" which was one of the four city-states of Kefalonia.
We enter the Acropolis through the main gate, built with impressively great in size stones and we start touring the castle. Parts of the wall still stand majestically overlooking the incredible views of Ithaca, Sami, Agia Efimia and Antisamos. We continue our hike on a magical, downhill path which leads to the famous "Antisamos" beach. We then ascend the hill with mild canyoning without ropes for about five km through a gorge we reach one of the highest mountain tops on the island "Aygo" with an elevation of 1050 m.
We stop for a rest and snacks while we have the chance to admire the breathtaking views. We carry on our hike along an old, downhill path on the other side of the mountain overlooking the valley of Zervata village. We arrive in Mouzakata village, abandoned after the massive 1953 earthquake. We stop again for a snack and exploration. Then, our hike takes us to the next abandoned village "Old Zervata" located right above where the new village was built. Moving uphill, we enjoy stunning views of the bay of Sami and Karavomylos until we reach the Acropolis" Kyatis" where the Monastery of Agioi Fanentes was founded in 1265 AD. We continue our tour in the monastery as well as in the church of Ag. Nikolaos where the murals have been preserved over the centuries. Then we follow a wooded downhill path where we take the last photos before returning to Sami where our hike ends.
Included:
Guiding service

Snack

Liability insurance
We advise you to bring:
Small backpack

Windbreaker

Sunglasses

Clothing depending on the season

Hiking shoes